NovoConcept Engineering Ltd. is a rapidly growing engineering company which works in the field of automated control systems of technological processes and industrial equipment.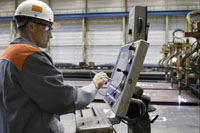 The systems of Automatic control are equipped with the components of leading manufacturers.
Our company is ready to provide you with a wide range of services covering all stages – from target setting, its solutions and ending with the submitting of the project in exploitation with the necessary level of service.
Company «NovoConcept Engineering» provides an all-round automation of production in the following trends:
Consulting - assistance in the preparation of technical tasks, developing technical and commercial proposals, preparation of specifications, remote and off-site consultations, estimate of costs.
Projecting - development of technical tasks and work projects about creating of automation systems for reconstructed and re-built process installations in various branches of industry.
Software development - the creation of applications for the controller and the upper-level systems (SCADA systems).
Selection and delivery of equipment – means of automation, measuring and industrious equipment, cable products.
Assembling - the development of wiring schemes and direct installation of equipment on the object of automation. Laying of cable joints, the integration of network equipment and other software components of software technical system.
Starting-up and adjustment – carrying out of the start-up works in their own projects, MES (MES), Process Automation, TRC, electric power and control of start-up works of third-party organizations. Putting of automation systems into industrial operation.
Training of the personnel of the customer - organization and holding of training courses for operational staff of the customer and operational services of managing and operation of implemented systems.
Guarantee and after-guarantee service – experimental - industrial maintenance, upgrading of the software and hardware, supply of spare parts.
We provide solutions which have the following advantages:
reliability and fault tolerance - suggest and implement the highest quality equipment;
easiness of operation - the system uses an intuitively understandable interface;
individuality - the decision of no typical targets;
universality - the use of technical equipment at the customer's request;
innovation - the introduction of new technologies and algorithms of management;
modernity - the use of open technologies for the integration of subsystems into a single management system.
In our person you will find qualified and reliable partner which will not only help to improve your production, to raise product quality, but to do it at a high level and timely.
Company «NovoConcept Engineering» trying to create strong, permanent and mutually beneficial cooperation with its customers.
We are always open for communication and are happy to see you as our clients.